2017 Every day. (11.05.17)
I love taking pictures, the every day, the mundane, the big, the fun, the celebrating, even the hard. Images I want to remember.  So, this year, I'm documenting my everyday. A photo a day for my FB/IG and then writing the stories of each on my blog weekly.
11.05.17
Late Saturday night I got a burst of energy and changed up my bedding to my winter bedding. I got this set last year at Marshall's/Home Goods and loved having it on my bed through February. So, it was time to get it out for this winter season, even if it is near 90 degrees and I could have gotten a sunburn on Sunday.  I got new flannel sheets this year, which means more AC until the Texas weather decides it really is Fall and then Winter.
You know who didn't want to be left out of a photo opp… #poser #modelshot
Also, Sunday was horrific in Texas as a mass shooting happened in little town to west of Houston.  These people have been on my mind all week, one family alone lost members of three generations.  A dear friend of mine knew that family. Absolutely heartbreaking.
11.06.17
After having office hours with a professor and finally feeling like I'm coming up for air a bit in this accounting class I made a 100 on one of our weekly quizzes.  Praise the good Lord for that score!!
In other class news, I got this pencil in a little goodie bag recently, have you tried these Papermate mechanical pencils?  If you know me, you know I love pencils and pens, and you also know if I like it then it's on my shopping list.  #onthelist #alreadyboughtapack
11.07.17
Tuesday I drove to Austin and back to present at a CTE New Teacher Conference and on my way home made a stop in Round Top. This is one of my all time favorite churches.  Happened to be nearly sunset and no one was around when I stopped, so the perfect time to snap a picture.  Henkel Square in Round Top is a treat.
And, a special thank you to the Pie Haven who sponsored our door prize for this month's Polished Dinner!
11.08.17
Wednesday night the weather change had blown through and while I was bundled up for our walk, I wasn't prepared for rain. So, we had a impromptu jog in the spitting rain and when I got home I did a few exercises with weights.  And, Auggie squeaked all of his toys right at my head.
After finishing my homework Wednesday night I watched the CMA Awards, where Carrie stole the show on the red carpet in this royal blue dress and absolutely owned the show with her rendition of Softly and Tenderly, which was in memoriam of those lost in the last year, including the 58 in Vegas during the music festival. By the end of her performance, I had tears streaming down my face.
Also on Wednesday, apparently former Miss America Savvy and I were #twinning.  🙂
11.09.17
Thursday night was a Rodeo committee meeting and I got my buckle for 3 years of service as Vice Chairman along with others who finished their term. I love working on this committee and grateful for this souvenir from my time as Vice Chairman.
It was bittersweet to celebrate, as we were missing our friend Darin, but grateful his wife attended and accepted his awards in his honor and memory.  This picture includes a few blinked back tears.
And, the reason we work so hard?? For students like this who participate in our contests!  It is always a treat to have a student (she's days away from turning 14) come give their public speaking contest speech in front of our 150+ members at a meeting. That is one of 20+ contests we facilitate during the show.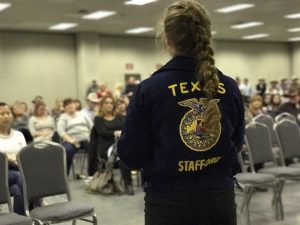 11.10.17
Friday night, early to bed.  Last sight before I  turn off my light every night.
11.11.17
Saturday morning I had a work event and passed through downtown on my way.  I always love the skyline and was reminded that day while talking to people who were still dealing with post flood homes and seeing so many World Series Astros Championship t-shirts how much our City has been through in just 2.5 short months. We're coming back, but it is a slow process and so many are still so very deeply affected. I do love this city!
Subscribe to the Blog:
Click "Home" in the menu and enter your email.