2017 Every day. (07.30.17)
I love taking pictures, the every day, the mundane, the big, the fun, the celebrating, even the hard. Images I want to remember.  So, this year, I'm documenting my everyday. A photo a day for my FB/IG and then writing the stories of each on my blog weekly.
07.30.17
Sunday I was in Nashville and we had some downtime of the afternoon (after taking an Accounting test in the morning – "perks" of online classes) and I headed out to the pool.  The Westin has a rooftop pool with a stunning view and it was a beautiful day outside!
The real highlight of Sunday though was Little Big Town at the Ryman. I went to Nashville with one of my besties, a big group celebrated her 40th there in January of 2016, and I considered this trip my end of 40 celebration as I will turn 41 in August. Check back for a full post about the rest of our trip and this show!  It was in one word: perfection.  I have LONG been a Little Big Town fan and they certainly put on an amazing show there!
07.31.17
The fun month of July travels comes to a close today, as it's my last vacation day.  We took in a bit of American History with a tour of Andrew Jackson's Hermitage.  $20 for a tour and a picture in a $20 bill.  The grounds there were really beautiful, the mansion so well preserved.
08.01.17
August. How is it really August?!  I was home and proof is in the fridge I haven't been home much at all.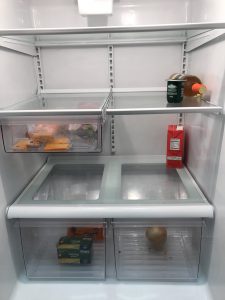 08.02.17
I don't think I've posted a screen shot pic at all this year, but this one was special memory and worth posting.  On August 2nd twenty (20!!??) years ago one of my dearest friends I grew up with got married and I was a part of her house party.  I'm sorry, my bangs and I were a part of her house party.  She's taught me a lot about marriage as their family has moved multiple times, she's mom of 4 children, has had miscarriages, has a husband with multiple graduate medical degrees, home schools her littles (who are now really bigs as one is about to be a Senior), and has trusted and followed Jesus every step of the way. That path has now led them back to my hometown and I'm grateful to get to see her more often!
08.03.17
Thursday I took a few hours off in the morning to attend a funeral service in my hometown for another high school friend who lost her step mom in a tragic accident.  I only keep in touch with a couple of my friends from those days and their families were also a big part of my life growing up.  My Mama met me for the funeral and we went to lunch after. She brought me a little cooler bag with a couple of pieces of cake in it, which was a nice treat on a day that was really heartbreaking.
(Also, it added a little to my fridge)
08.04.17
I got my library books mixed up with due dates and trips and finally finished the last book I had checked out so it was time for new books.  Perfect timing for a stack since I am finishing up my accounting class the 10th and will have a couple of free weeks! Hooray!!
PS…I had a library fine. Oops.  My Mom was a librarian for 20+ years and I would feel really bad about an overdue book except she also had a fine this summer and she's the PRESIDENT of the Friends of Library Board.  So, I paid my $1.40 without a bit of guilt. 🙂
You know we can't have a weekly post without having an appearance of the Auggie dog.  🙂  Friday night I stayed up late and did the last of my Accounting homework (and all the people said Amen!) and while I was working, he was busy accounting for all of the toys in his toy box by taking them out of the toy box one by one. 🙂   Not only is it my birthday in August but the end of the month he will celebrate his 2nd birthday!
08.05.17
Want to talk about a miracle?  I still haven't been to the grocery store, so the fridge looks the same, but I managed to get this dinner together for Saturday night!  A good taste of the south…pulled pork, pickled okra, mac -n- cheese, brussel sprouts.  Promise I'm going to head to the grocery store on Sunday!