Little Big Time in Nashville
Nashville is without question one of my favorite cities to visit.  It is a relatively inexpensive trip from Houston, the food is delicious and different from local cuisine here, the creativity runs deep and the live music is endless.  All of which are favorites for me.  I went to Nashville twice in 2016, once for a bestie's 40th birthday and once for Nashville for Africa event (read about it here).  When Little Big Town announced their residency at the Ryman, I really wanted to catch a show.  So, my same bestie who celebrated her 40th in Nashville and I planned a trip back, and I dubbed it my end of 40 trip!
We flew in Friday night, after a two-hour delay from Houston which was definitely out of character for Southwest Airlines, but apparently there was weather on the East Coast which delayed their flights.  So, we just headed to our hotel rooftop for a drink and called it a night.  The Westin has a pretty view of the city.  Sidenote – for the last weekend in July, we had unexpectedly amazing weather; highs in 80's, low humidity and beautifully clear sunny skies!  #amen
Saturday morning we slept in and then made our way to Puckett's for breakfast, which really ended up being brunch. We got the corner table outside that was primo location as we had the benefit of the one shade tree of the patio area and definitely enjoyed outside breakfast, coffee and people watching. They also have a great lunch/dinner menu, I've never had a bad meal there in 4 trips to Nashville!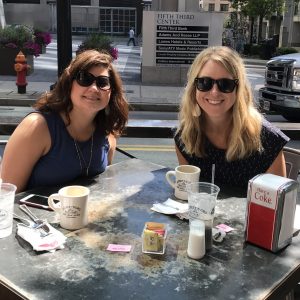 After we left Puckett's we headed for 12 South, a trendy shopping area of Nashville, also home to Reese Witherspoon's store Draper James, and the "I believe in Nashville" wall photo op, which of course we stopped for a pic!  The shopping on 12 South ranges from high end boutique to reasonably priced shops and features a ton of local artists in these stores, so you can definitely find unique gifts, jewelry and other finds.
The best find of Saturday afternoon was Bar Taco, located on 12 South. I don't typically ever recommend Tex-Mex/Mexican food outside of Texas, but this is a must eat if in Nashville. We stopped in around 3pm and there was a 30 minute wait, but we found 2 seats at the bar, so opted to eat there.  The bar tenders were very knowledgeable on all of the food as well as drinks, of course. They make their own tequila and if you are a margarita fan, theirs are made with fresh squeezed juice.  The guacamole is a must have, do yourself a favor and order a large, and the 3 different tacos we had were all delicious as was the corn-on-the-cob that you can actually get off the cob in a bowl. The wait staff all wears navy gingham shirts, the sides of the restaurant are all open to the patios and the atmosphere was fun.  So much so that no pics were taken!
After lunch we headed to 21st Street, and found a few shops with great finds; Tennessee Chic, The Impeccable Pig, Dress Up and The Pancake Pantry is also nearby. That's a breakfast place I haven't been yet, but I'll be back!  I have heard the lines can be long there, so need to be up and out early to avoid a long wait.  As mentioned in Seaside post, I love shop decorations and displays. This particular place had all kinds of quotes on cards that you could get for these frames. I really liked this one; "Hem your blessings with thankfulness so they don't unravel".
Saturday evening we went to dinner at City House, a quaint Italian restaurant located on 4th street, which had yummy pizza and an amazing chocolate toffee cake!  #vacaindulge After dinner, we headed to Broadway and hit a few of the local places; Robert's, Legends, and Tootsies. The Bluebird Cafe is another place I haven't been to yet, and is on my list for a return trip.
(Of course we packed more than enough clothes for 3 nights, but we both wore new finds from the day!)
Sunday morning I had an accounting test to take (not a #vacaindulge) and after we went for hot chicken sandwiches at Party Fowl on 8th. They were also packed, but we got a table pretty quickly and all of our food was delicious. We ordered biscuits with special homemade jam, hot chicken, and had beignets too!  #madeupforaccounting.  From there we walked back to our hotel and hit the pool for a bit!
Sunday night was THE show…Little Big Town at the Ryman!  We went for early dinner at the Oak Bar in Hermitage Hotel; they have a great happy hour menu and I would definitely go there again pre-show. Then we headed to the Ryman for the show.
Our tickets were "fan experience" so there was a Q&A prior to the show with the band which was fun to see them interact, answers to questions, etc.. If you've ever wondered what Kimberly's walk on song would be as a baseball player the answer is "9-5" by Dolly Parton!  The show for me was a Top 3 I've ever seen.  Their harmonies are amazing, the Ryman acoustics are unmatched of any venue I've ever been to and their friendship and humility of character shines through in their entire performance.   I sat on the edge of my seat the whole show and everyone sang along. Special guests for the night were Brothers Osborne and Maren Morris. I also would go back and see this show again.  If you've never been to the Ryman, and wonder where to sit; I've been on the floor,  the top of balcony, back of floor and 2nd row balcony. I would recommend 1st or 2nd row balcony, and will likely sit there for future shows I attend, unless I have the opportunity to be on wings of the stage again, then I would be there.  😉
Monday morning we walked to  breakfast at the Frothy Monkey downtown, which is a coffee shop also located on 12 South. I think that location is probably more "trendy"; but the downtown location was great and for a coffee shop they have a wide range of menu and hot breakfast items, not just pastries, etc.. Also, if you've ever wondered what Broadway looks like in the early morning daylight hours, here you go….   
After breakfast we took in American history with a tour to Andrew Jackson's Hermitage.  It was a beautiful property, neat self guided tour with stories that were interesting, and mansion tour with great guide/story tellers.  We pretty much skipped through the "museum portion".
(this made me think of the original Fixer Uppers, and shiplap)
We had lunch at Burger Republic in The Gulch, must get their fried pickles and jalapeños if you find yourself there and then walked back to our hotel.  Thanks to the perfect weather, we were able to walk a lot of places from our hotel and otherwise took an Uber as needed. I hadn't been to The Gulch area before and definitely would go back there to explore again.  The photo-op wall with wings painted on the side is located here, but we didn't stop, there were quite a large group of people gathered when we passed by.
Monday afternoon we flew home and while I love to go and get away, it's always good to come home and see the Houston skyline. But, if I ever had to live outside of Texas, Nashville would be a top choice!
See you again soon Nashville!