With the best of intentions, I meant to post a Christmas Home Tour much earlier!  Despite my decorations being up November 24th, it just didn't happen. Better late than never, right?
So, welcome to Christmas 2017 in my home!
My tree is a 6′ slim from Michael's a few years ago and fits perfectly between my bookshelves and armoire.  It is covered with ornaments from trips, college besties and ornament exchanges from friends. There's really not a single "theme" or filler ornament on it. I grew up with a tree like this and it's always been my favorite. I love the tree lit in the evening and the story it tells.
My presents were all wrapped in the same paper this year and I finished them with yarn.  I used an entire roll of paper, so that meant I hit the Hobby Lobby after Christmas 80% off sale and picked up new 100 yards of wrapping paper at $1.60 per roll!  #winwin
I hung ribbon on my windows this year and displayed Christmas cards, which meant the faces of my nearest and dearest friends and families I treasure were on display for all of December!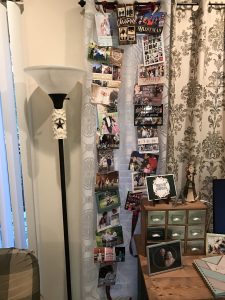 I have searched and searched for a nativity, but have yet to find one I've fallen in love with. Nevertheless, I have this single nativity and a couple of signs as well as my globe on a side table. I painted the manger scene piece.
I found this banner in the dollar spot at Target last year, the Santa pillow is from a few years ago and the quilt is a Home Goods find.
But, let's be honest, it looks like this most of the time…
My bookshelves have the "JOY" on them year round, but I change out the books for my collection of children's Christmas books.
My dining table tray has a simple Christmas decoration too…
The bar between my kitchen and living room has a few decorations as well, a little winter scene and of course some Christmas napkins.
This year I picked up these dinner plates at Target for $2.50 each, there are four designs and what I ate off of the month of December. I kept them on my counter and rotated them as I used them so the display rotated between tree, Santa, reindeer and a snowman. I've had the dessert plates for a few years, so I left them out as well and ate Christmas treats on them through the holidays.
I love this old fashioned Santa and this year he landed in the kitchen alongside the KitchenAid and a new Christmas Fur candle from Anthro.  I have the volcano scented candle typically through the year, but this was a good change for winter, and not an overwhelming scent.
I picked up this towel at Anthro on a summer sale, and I love it because of all the bright colors, but the gallery walls and bookshelves are much like my home, so I had this towel on the stove in the kitchen as well.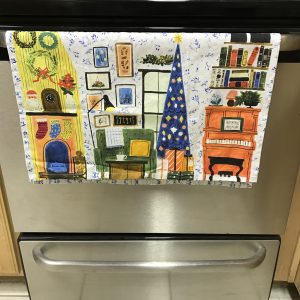 The bathroom isn't left out of the festive decorating and while I've taken away the tree farm towel, I still have up the shower curtain, not sure when I'll switch it back….
My holiday/winter bedding was also back this year for the second year, and was actually out as of the beginning of November and I'll leave it up through February. I got new flannel sheets this year and since we've actually had snow and cold weather this December, I've loved having flannel sheets!
Merry Christmas and Happy New Year from my home to yours!
Angie