Book Review – '18-'19 Winter Edition
Welcome back! How is it already half-way through January!? Or really, more than halfway through January and next week is already February?  I have been reading lots through the holidays and thought now is a good time to share my recent winter reads.  In case you missed my last Book Review, you can click here to see a few more books I've recently read. Some good – some not so good.
I try to remember to have a book with me if I know I am going to be sitting somewhere and waiting, like the hair salon during a highlight appointment.  After I ditched my library books I started reading several books I had been given/purchased over the last several months that were at my house.  Love Lives Here by Maria Goff was another one of those books. This is a quick read, that reminded me to be here, present, in the moment, and find ways to love right there.  Taking care of yourself and your people. That looks different for all of us. And, these words were good reminders.  Status: Recommend.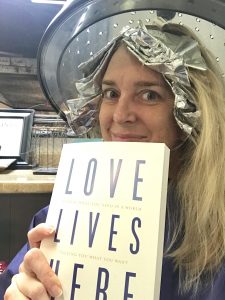 I also finished up the Bible Study I was working through with a couple of friends, The Faithful, which includes lessons by several of my favorite Bible Study authors. This was a good study, a few weeks I liked better than others. However, the lessons were all one-week snapshots from entire studies of various heroes of the Old Testament, which vary from 6-8+ weeks as an individual character study. Status: Recommend

Really, I hardly remember reading Orphan's Tale by Pam Jenoff. Seems like that was a long time ago…sitting on the patio  in the warm sunshine with a book. We've had so many rainy and dreary days!! Another historical fiction novel, shocking if you know me, this one follows Noa, the main character, who has a baby, but must escape the life she is in. She finally lands in a traveling circus during World War II. She is determined to make it while providing for the baby, though the trapeze is a series of lessons about learning to fly and falling, both realistically and metaphorically in her life. She is focused and distracted and must find her footing in both her work and personal life. Library Journal compares this to The Nightingale and Water for Elephants, and I would agree…if you liked those, you'll like Orphan's Tale. Status: Definitely recommend.

Topping all of the "books of the year" lists in 2018 was Educated, A Memoir by Tara Westover. So I checked it out to see what the hype was about. It was fascinating to me that Tara is currently in her early 30s and she grew up in a survivalist family in Idaho. This book somewhat reminded me of The Great Alone, except it is not fiction. I read this book fairly quickly, eager to find out how Tara found her way out of the environment she was raised in and how she ended up where she is today, as an educated woman. The lists are right, this is a great read. Status: Definitely recommend. 
My mom gave me a copy of Winter Garden by Kristin Hannah to borrow in the summer and I finally got around to reading it late fall. Kristin Hannah is one of my favorite authors and I've read several of her books. Winter Garden is another story with flashbacks, a mother and her daughters and learning to understand each other through the retelling of life they really didn't know as children. She writes with detailed descriptions, readers can create such a space in their mind while reading to put yourself alongside the characters. Especially in this book, in the brutally cold winter garden where their mother was often found, much to the daughters dismay. Status: Definitely recommend.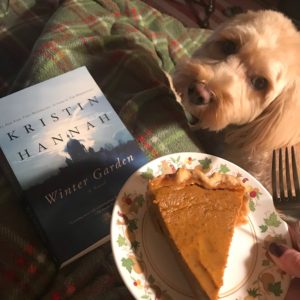 Good book + pumpkin pie = perfect bedtime treat! Or with a latte at breakfast on a work trip:
I recently spoke to a local Rotary Club and at the end of my speech they had me sign a book that goes to a free library for kids. I am obviously a huge fan of the library and love that this is one of the ways they give back to their community!

If you follow any reading circles you've probably seen My Oxford Year by Julia Whelan discussed and recommended. I was on the waiting list for a while for this book.  As someone who took an "adult gap year" and left all that was familiar for far away place, even though I didn't go to England, I could relate to parts of this story. An American takes off to Oxford to fulfill her dream of completing a year of study at Oxford and of course along the way meets people that change the course of her year, which could ultimately change the course of her life.  I liked this story and it reminded me, there are so many decisions in life we can make that change the direction of our lives. We never know how they will work out, but when you can look back and see where the puzzle pieces came together it all makes perfect sense. Status: Definitely recommend.

Reading by my Christmas tree was a favorite this winter!
I checked out The Alice Network by Kate Quinn from the library around Thanksgiving and thought surely I would get it read during the slower days leading up to Christmas holidays. Wrong. I paid the fine for it today, ha! But, it was worth the $2.40. This book is another in my favorite genre, historical fiction, set in the aftermath of World War II with flashbacks. This is an amazing story of perseverance of both a character looking for her lost cousin and the woman she finds to help her trace back towards finding her cousin. Together they are both individually vulnerable and self-protecting but forge a bond and discover themselves in a new light along the way. Status: Definitely recommend.

On December 31 I finished up reading my Bible In A Year! I wrote a little more about this in my 2018: Begin post if you want to find out more about reading through the scriptures in a year.  No matter what the 'reading plan' is, just begin. This ended with one of my very favorite verses: Proverbs 31:30: "Charm is deceptive, and beauty is fleeting; but a woman who fears the Lord is to be praised."  This is a prayer I say often to myself to remind me what matters most of my character.

I didn't remember putting November 9 by Colleen Hoover on my library list, but it came up as ready for check-out and I assume it is one I had seen on a blog or Facebook post comments.  Sometimes I love the surprise of what the library gives me next, except when they give me 7 books at once because I haven't been managing my holds well.  November 9 happens over five years of the date, November 9. A story of a young girl, her father, broken relationships, new love, mended hearts and finding your purpose through years of time. I don't think I've ever read a book written in this format and I liked it.  I love the flashbacks vs. present day in many historical fiction novels and this was a little bit different take on a timeline of characters. Status: Recommend.

I was almost finished with November 9 and was leaving for a 24 hour trip and knew I would need something to read on  flights/in the airport. I looked on the library website for Kindle books that were available for immediate checkout because it seems everything I put on hold I'm at least #10 on the wait list, or maybe even #50.  I found The Rumor by Elin Hilderbrand and The Day We Met by Rowan Coleman and checked both of them out.  I finished November 9 on my first flight and immediately started The Rumor on my second flight, after a stop at Dallas Love Field Starbucks for a hot tea. First, I can't look at "Elin" and not think in my head "E-lynn" vs. "Ellen" as pronunciation of her name.  But, that also made me think about all the names of book characters and how we imagine them in our head when reading, including how their names are pronounced which is probably a wide range of interpretation. #squirrel 🙂

The Rumor was a typical Elin novel. A set of friends, little drama, a little romance, a beach town, a few bad decisions and tiny bit predictable. Context clues tell you the book is based on a rumor, but it wasn't so predictable that I had it all figured out half-way through and could abandon the story.  If you grew up where everyone knows your business and are familiar with how news travels in small towns, this will give you a few relatable laughs. It's a mindless read and was perfect for my flights, and functioning on very little sleep and a distracted mind. Status: Recommend-ish.

(I was up at 3:40 am to load up, drive an hour back to the airport and return my rental car for a 6:15 am flight, so when I landed back in Dallas I hit that Starbucks again during my hour-layover and read while I waited for my final flight home.)
The Day We Met included a testimonial on the cover "As with Me Before You by Jojo Moyes, I couldn't put this book down." which sold me immediately while browsing the library Kindle books. Jojo Moyes is one of my favorite authors and Me Before You still is a book I think about often. A seemingly perfect family is interrupted by a disease that is stealing away the familiar and all of them are trying to capture their memories before they are all forgotten. The relationships between mothers and daughters and a husband and wife are written with such description that you feel as if you're living right alongside them. Some things are stolen and some things aren't. This one hit a little close to home for me, but it will also stick with me.  Status: Definitely recommend.

Also: another reason I love Kindle books. I went from eating breakfast to the nail salon and my Kindle was perfect to keep reading without having to flip pages!
I'm joining in this January on something I've never done before…Online Bible Study through Proverbs 31 Ministries. The book study is It's Not Supposed To Be This Way by Lysa TerKeurst. I've read other books Lysa has written, seen her at multiple conferences and am looking forward to this study. If you're like me more than once, maybe in the last week, or over the last several years you've thought that sentence "it's not supposed to be this way" about your life.  In fact just a week ago I basically shouted at God "IT'S NOT SUPPOSED TO BE THIS WAY" over a circumstance that is breaking my heart, but I know He is still good and the timing of this study I'm not counting as accident or chance, I know it is divine.

This round had several books I would definitely recommend, and you won't regret any of these choices. I picked up a new book from the library, so stay tuned for another book update late Spring…because Rodeo will take over late February/half of March.  Sometimes it still makes me laugh that I love to read as much as I do, even though there was a time in high school and college where I'm pretty sure I never picked up a book. But, as Annie F. Downs says in 100 Days to Brave, own the things you like, and I like reading. As always, I love to know what you're reading, please share any recommendations you have. Know who else loves reading time?  This pup: 
Blessings!
angie
*any bold text in this post will take you to another post, or to Amazon for the individual book.