House Projects: Kitchen Remodel
A casual conversation at a Super Bowl Party about building a new wall-to-wall, floor-to-ceiling pantry became a full fledged 6 month kitchen remodel!  We started with replacing our tank water heater to a tankless water heater and ended up with a new pantry, laundry cabinets and kitchen including new appliances!  Here's a recap of the journey, and thank you to our family and friends who have cheered along each step of the way.  
Actually, I should take a step back, the first step was repainting in August 2020 from green to HGSW Sea Salt. As a reminder, here's what the before looked like as of September 2020: 
A few key things to note as we begin…the scallop moulding trim, the scallop window "valance", the microwave on the counter, the black and white appliances.  
The first projects happened behind the door in our laundry room, here's before, after the water heater was replaced. This cabinet served as our pantry and the door to the laundry room is to the left of the pantry cabinet. To get anything out of the pantry, you had to come in the laundry room, close the door, get what you need, open the door, go back to the kitchen. We discussed a pocket door here, but ended up (for a lot of reasons) with a bi-fold door which we love.   
The new pantry cabinets were designed and custom built to fit in this space, wall to wall. And the laundry cabinets went to the ceiling and were extended to be 18″ depth.  
SO. MUCH. STORAGE. The pantry has cabinets, adjustable shelves throughout, cabinets on the doors and two large drawers at the bottom.  Next, our friend made new drawer and door fronts to our cabinets. 
Then, we moved the microwave; from the countertop to above the stove! Hooray for more counter space! And, so long to the scallop moulding and hello to new crown moulding. We lived like this for quite a while… 
Next, things really started to change….starting with appliances on a Friday, which required moving out our old appliances, and selling them on FB Marketplace. Win win!  
One piece of a renovation no one shares is how you live in the meantime…a front room FULL of our kitchen/built-ins and the bathroom also becomes the kitchen sink and coffee station. 
New appliances installed, except the dishwasher which required waiting for the sink to be replaced. We had a great experience with Best Buy for our appliances. 
Countertops were installed on a Saturday. So much dust, even the plants in our flowerbeds were covered in dust!
One seemingly small change we made was to increase our bar by 4″ depth and we have LOVED having more space there! Here's the countertops and new sink installed. 
Backsplash tile started on Sunday and was completed on Wednesday.  
Our dishwasher and faucet were installed next. So, we had running water to use in the kitchen for a few days before the painting began.
The last piece and what I felt would make the biggest impact was painting! The paint process was a process and a learning process/source of frustration.  We were so done with having people in our home, living out of boxed kitchen, disappointment in quality and service and I now have a list of questions I would ask a painter before hiring them if I went through this process again! Painting is lots of tenting, dust, fumes, fans and mess! 
Finally, we had white cabinets! It is a BIG change, one we love AND that took a little getting used to. So, don't be surprised if that happens for you in a kitchen remodel. It is great, AND very different. Both are ok! These pictures were taken from under the paint tents. 
Doors returned – but had to be left open for several days to dry.
The last significant update to the kitchen was a light over the sink.  The existing light was a simple globe flush mount light, but was never seen due to the previous "valance". When we found the dining room light, we went back to see if we could find something complementary to that fixture and found a single pendant light. Cody also installed this fixture, which ended up adding a ton of light to the kitchen and casts a warm glow in the evening that we love.  
Along with the pendant light install, final steps included adding door and drawer handles, a few adjustments to level doors and drawers, moving into the pantry, unpacking all of the boxes, completing the dining room, painting the bifold door and we could finally say were were D O N E!
Welcome to our completed kitchen!  Sources are listed below.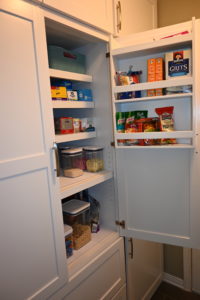 We are so grateful for this renovated space and look forward to hosting in our new kitchen! 
Sources with links (not affiliate links) where available:  
Thank you for stopping by and to everyone who checked in and cheered along each step of the renovation!