Holiday Memories: Thanksgiving 2022
We had a full week of Thanksgiving Break – all week for Cody and Wednesday – Friday for Angie.  We began the week with a trip to the ranch and Robertson family dinner and ended the week at the Aggie game with lots of memories in between.
Saturday we rodeo over to the ranch, it was cold and rainy, to set up the deer blind, check a few things in preparation for Cody to hunt Sunday morning with his brother and nephews.  We met the Robertson family after for dinner in downtown Bryan. 
The cattle definitely thought we were the feed truck rolling up, sorry to disappoint them!
With a dreary cold start to the week, we enjoyed several evenings of fires at home. Auggie is remembering he likes the fire. Takes him a little bit to get used to it again, he'll be laid up on the hearth in no time! #smartdog
Wednesday we spent at the 4G clearing brush and tending a burning pile all day.  Except for a quick trip to the vet for Auggie's annual appointment.  It was such a beautiful day to be outside – good for the soul!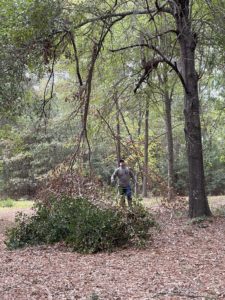 I told mom let's take a before pic…because no telling what we would look like after….Rowdy wanted in on the Golf Cart rides to and from the wilderness, Annie is on there too. 
Cody got in some tractor time and some old fashioned lumberjack work!  Thankful for his help!
We emptied 15+ trailer loads of brush throughout the day! 
Taking a break, tending the fire.
These are some of my favorite days at the 4G and I'm grateful Cody enjoys them, too! 
Lot of progress!! 
Thanksgiving morning Cody checked the fire a few more times, and got the big log over to the stump. 
I made some cheese grits and deviled eggs, Cody got the little smokies on.  We feasted for late lunch! 
Thankful for my Mama who loves to cook and host and my Dad who is her #1 cooking/kitchen cheerleader!  
My mom has a tablecloth we've started signing for holidays meals and gatherings.  We had dear friends around the table this year, and remembered my Aunt, her signature on the table, but her home now in heaven. 
Friday was another rainy day, but Saturday cleared and was a beautiful, chilly, fall evening for Texas A&M vs. LSU football game with an Aggie win!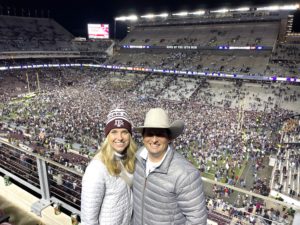 Thanksgiving 2022 – we are counting our blessings and grateful for this holiday season.
Blessings to each of you, 
Angie & Cody