What I'm Wearing: Cold Snap
Even though yesterday broke a 1951 record temp in Houston, we did have a few days of a cold snap recently, and it's supposed to return again soon….
Here's a little snapshot of what I wore a few of those chilly days:  
Sunday Style with "winter white" because it's not summer….but I love white jeans all year round!
I recently picked these jeans up on an end-of-season clearance rack and paired them with tall suede boots and a favorite (few seasons back) turtleneck sweater. Neutrals are a favorite for me. 
We went to the Aggie game looking like this, even turning the AC on in the truck because it was a little warm at 2:00pm…
but, it quickly turned into this, because the wind was whipping and the temps dropped quickly. My A&M sweatshirt was a Christmas 2021 gift from Cody, and I finally got the chance to wear it! I love a beanie hat, and recently got an Astros World Series Champs beanie — for the next time it gets cold!  This gray coat was a Walmart find a couple of years ago and was perfect for the stadium because it was a longer length.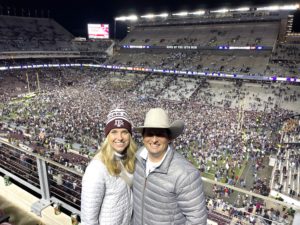 A cold day to be out and about for a few errands in a new fav "JESUS LOVES YOU" hat I caught on Black Friday + IG shop deal! That black TJ Maxx Patagonia find has been serving me well for several years now!
Travel for Thanksgiving…simple and comfy.  Columbia fleece pullover, leggings and sneakers, which are often on repeat. 
I love a flannel shirt, and this one with mixed prints is super cute.  I've already worn it several times this year, snapped a couple of pics this day. PSA: never buy on Gap (or Old Navy) without a sale code(s)!!
Not to be forgotten, sweatshirts have definitely been on the rotation! 
Another Sunday style I mentioned here, paired with an Old Navy coat.  This dress was a Spring clearance find and since it was never Fall here, this is the first time I was able to wear it! 
Because it's Sunday, you know that dress quickly went to Sunday nap comfy after church with this soooo soft sweatshirt. 
We layered up, (and matched-they say that happens more and more the longer you're married), for a chilly evening on the golf course. That sweatshirt was a pre-fall wear and still going strong with lower temps, and of course a beanie hat, too. 
Last look, another flannel, layered up for a rodeo meeting. While I love that Gap flannel above, it is not near warm like a vintage flannel.  #theydontmakethingsliketheyusedto The rest of these pieces have been in my closet for a while, just put them all together for this outfit. Green is my favorite, this was many shades of olive green that all worked together. 
Thank you for stopping by the blog. I always hope these posts inspire you to look in your closet and put together something, in the style that suits you best!  
Blessings, 
Angie 
*all of these are direct links, nothing commissionable, just finds I like to share.