This year the one trip I've really wanted to take was to the beach, a US beach, not a trip out of the country. Every now and then I looked up places that were possibilities, considered going for a long weekend by myself, decided a beach trip would be my MBA graduation trip next summer, and let it be.
Then my friend texted me….
I've seen friends post for several years now about Seaside/#30A, I honestly didn't even know where it was, until I asked "what the heck is #30A?".  But, that didn't seem like the beach for me. Because it was all friends with their families, pictures of beautiful beaches and memories in the sand and sunshine. I had those same memories as a child from weeks spent with my family and dear friends at Nags Head, NC. But, I don't have a husband, or kids, to take to #30A, and I felt like that beach was for them, and not for me.

BUT, 15 minutes later we worked around the dates and I had a beach trip booked for a week away at Seaside!
A 9 hour road trip from Texas and we arrived in Seaside, dropped off the teenagers with their friends and headed to our beach house to unload.  Later we met up with the group, (the teenage boys we brought were staying with a family + their friends, 6: 15/16 year old boys, bless her!) and had a big family dinner together. It's no secret the table is my favorite, and I love hearing other people's dinner traditions and their's was naming things you're grateful for.  Me?
"I am grateful to be able to say YES and be here for this week." 
Seaside. Isn't she lovely?
I thought about it later, I always felt like Seaside/#30A wasn't for me because I hadn't said "yes" to being married and having kids (lest you think I've said "no" to someone, you'd be wrong). But, because I am available, I can say "YES" and go 2 weeks later. With a dear friend I don't get to see often, a gift in the midst of a season, to chat, read, eat, drink, shop, swim and relax.
We had days that weren't rushed, plans that popped up, new friends that were made, laugh out loud moments and some serious life convos too.  Sunday morning we went to the Farmer's Market in Rosemary Beach and then shopped around most of the day.  One store we stopped in was The Mercantile, which is one of my favorite types of stores – full of words and carefully curated goods, and I saw this cute display with one of my favorite quotes. 
Another placed we stopped in was Nicole Paloma, where everything is hand made onsite and they had the most beautiful full length brown velvet duster that could best be summed up as couture full length military vest of beautiful fabric, hand stitch and varied sewing pattern. If it wasn't $495 it would have been on a road trip home to Texas with me!! How inviting is this sewing room?  That dress on the mannequin?  Hand painted silk. Amazing. My first love into fashion began in the 4-H Sewing Club where I learned to make all kinds of things, and made some specific designs come to life. I love to see creativity in action, and these girls were working away while we were browsing.
 While on the topic of clothes, here's a few things I wore in Seaside….
TJ Maxx $13 clearance top, which is blue and white stripe, though very hard to see, with Gap white cut-offs and Target wedges.

Left to right…
(1) Marshall's bird button down and Target floral terry shorts from several years ago. (2) Green sundress from a boutique several years ago. (3) Details above (4) Beach Lunch Lounge embroidered dress from Nordstrom Rack.
Marshall's spaghetti strap peplum top, Old Navy cut offs and yes, I rode my bike in those wedges.
 Speaking of bikes…this was one of my very favorite things about Seaside!
Bike to breakfast?  Yes. Bike to the beach? Yes. Bike to dinner? Yes. Bike to shop? Yes. Late night bike? Yes. iPhone as a bike headlight? Yes. 🙂
And, of course I was in a swimsuit a lot of the time!  I have a couple of new suits, but wore older ones on the beach. My coverup is by Columbia and is essentially a fishing shirt with a drawstring waist, long enough to cover your rear, has pockets and long sleeves! Perfect sun cover up when necessary. 
 The days?  A lot of this.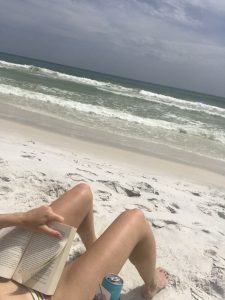 I read 2 complete books and about 75% of a 3rd while there. More on what I read coming later.
Tuesday before we left, the weather reported 80% chance of rain every day were were there, and our trip was back and forth for a bit deciding if we were going to go.  As it turned out, we only had one late afternoon rain which cleared by dinner, and one cloudy/drizzling morning. The rest of the time?  Perfectly sunny days!
Bonus? When some of those same friends who I've seen pictures of at the beach happen to be at the beach when you are!  This was another big family dinner night with old friends and new plus a great country band playing out on the lawn.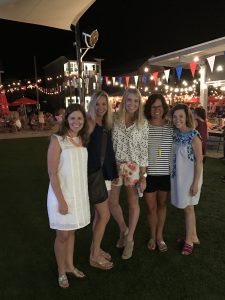 All week long people asked us "were we sisters?". While we aren't sisters by birth, Lesli is a dear friend, a sister in faith and one that asked a question that I could answer with "Yes". And, God reminded me, again, He gives good and perfect gifts TO ME no matter what season of life I'm in.
 Seaside 2017…this was one of the best weeks. Not because it was extravagant.
But, it was the sweetest gift of time.
And, a beautiful beach.
I won't soon forget.