2017 Every day. (07.23.17)
I love taking pictures, the every day, the mundane, the big, the fun, the celebrating, even the hard. Images I want to remember.  So, this year, I'm documenting my everyday. A photo a day for my FB/IG and then writing the stories of each on my blog weekly.
07.23.17
Sunday in
Seaside
we started the morning at the Rosemary Beach Farmer's Market, and then shopped around Rosemary. Went home and got our bikes to shop Seaside, rode bikes to Grayton for lunch and looked around a bit there. What did I get?  A Seaside T and a Christmas ornament.  🙂 But, I also loved browsing all of the fun shops, and seeing how stores display items. I loved this little display in the Mercantile.
07.24.17
Monday was a dreary morning, which we stayed in and read books, did a little work, caught up on blogging, ate lunch and then the skies cleared for the rest of the day on the beach! This was our last day, so I was really grateful for the sun to shine for one last afternoon on the beach.
In case you missed it, all of my thoughts on Seaside are
here
07.25.17
We road tripped home on Tuesday, got back into town about 6:15 pm and my Mom brought Auggie home earlier in the day, so I was super glad to see him! We went for a walk, perfect after a long day in the car, and had a normal evening at home. 
07.26.17
Back to life, back to reality at work.
And just a teeny bit sad I wasn't still on this schedule….
07.27.17
Thursday I was done with the work "week", catching up at home in the evening, getting ready to be gone again, and of course out for a walk with Auggie. This is his favorite part of the day! Being gone so much of July has had me a bit out of my "normal" routine. I do love to go, but I also love home, and thankfully between all of my trips I've been able to have a little bit of down time at home. I am also really grateful for my parents who keep Auggie for me, and brought him to me so he could come home for 2.5 days because it's really quiet around here when he's not around!
07.28.17
This was my last Friday off from our summer "40 in 4" workweeks, which I really love the Friday off! I ran a couple of errands, had lunch with my parents, went to the pool for an hour, packed and flew out to Nashville (after a 2 hour flight delay) and ended the day at the rooftop bar of the Westin with one of my besties!
07.29.17
Saturday morning we headed out to walk for breakfast and had the most unbelievable weather!  80's, low humidity, breeze, perfection!! Apparently Nashville had a "cold front" that had just come through and we benefitted from it for our whole trip!! We shopped around most of the day on 12 South and 21st Street, plus had lunch at Bar Taco. If you go to Nashville, this would be one of my Top 3 recommendations to eat!  Was so good! And, that's from the Tex Mex Capitol of the USA!
We were also super fortunate at breakfast to get the only table that had a little shade because it did warm up a bit by the time we were getting our food. Puckeett's is another one of my Top 3. More thoughts on Nashville to come, I love that city!!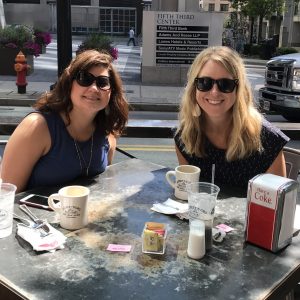 Subscribe to the Blog:
Click "Home" in the menu and enter your email.