2017 Every day. (12.03.17)
I love taking pictures, the every day, the mundane, the big, the fun, the celebrating, even the hard. Images I want to remember.  So, this year, I'm documenting my everyday. A photo a day for my FB/IG and then writing the stories of each on my blog weekly.
12.03.17
Sunday morning I sat in church with one of my favorite families and their sweet oldest daughter sat by me. She was making notes and practicing her lettering too!  I love seeing littles learning cursive and their creativity too!  Also, I'm so grateful for the families I've met through my church, the tables I get to sit at with them and their friendship to me.  
12.04.17
If you read last week, you saw I picked out new Warby Parker glasses and they arrived on Monday! Hooray!  They have new cases/packaging since I last got glasses and love that they came with a lens cleaning cloth and a reminder, for every pair purchased, a pair is given to someone in need.
And, Monday night I headed off to my last class for the semester and wearing a new pair of my glasses! Also, sipped a second Plexus pink drink on the way!
Monday night I got home after class and finished up my Accounting class, in the midst of a few rounds of fetch with various animals from the toy box zoo collection.
12.05.17
Tuesday I crossed the last thing off the list I've been living by of class due dates for the last couple of weeks and the last half of a baby bundt was a perfect treat. Don't worry, Auggie doesn't get cake, even though he thinks he'd like to have some.
Tuesday evening I took my phone on our walk and snapped a couple of pics of Auggie in the leaves.  He's almost too big for Barney's sweaters, so maybe Santa can bring some new ones!  And, maybe Santa can also bring some cold weather….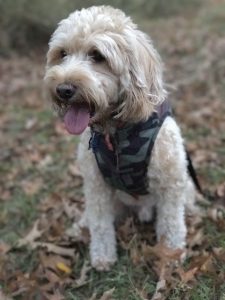 12.06.17
Wednesday night I went to dinner with a friend and when I got home and was able to sit on the couch, not in the desk chair, Auggie was pretty happy and sat right in my lap for quite a while!  I needed some stretchy pants STAT because dinner at Tiny's #5….delish!!
12.07.17
Thursday wrapped up our fall semester with Polished Houston and I spoke at the luncheon. It was a treat for Kat, our Executive Director to interview me and chat about choosing our best yes, and confidently saying "no" in a world of demands from all directions.  I'm excited about our spring semester ahead with Polished!  If you're a young professional woman (working – at home, part time, full time, contract, own a business, anything) and looking for a great networking group, I'd love for you to join us, we'll start back up in February.
12.08.17
I guess Santa delivered early, because we woke up to SNOW on Friday morning!! It was such a treat!!  It melted away pretty quick with the sun coming up, but was the first time I remember snow that accumulated/stuck overnight in Houston!!
When we first went out before 6am, there was a lot more! I think Auggie would have loved to cut loose and make a snow-angel… #bigdoglittlecoat
12.09.17
Saturday was one of my favorite days of the year, Christmas gathering with my college besties! We always meet up for a long lunch, ornament exchange and lots of laughs with a few tears.  This year was no different.  These girls have been my besties fro 20 years now, we've had this as our Christmas tradition for probably close to 15 years and there's something about friends who have known you that long, a lot of life has been lived in this group and despite distance, it never seems to skip a beat!  In fact, friendships like this get better with age.
This year is going quick! Here we are in December and I've nearly made this year of daily photos and weekly posts!
#amen