The 2020 National Finals Rodeo was held in Arlington, Texas and football schedules were a little different this year, so we were able to attend the NFR! I've been to the NFR in Las Vegas a couple of times, for ALL of it in 2012 when I was working on the road, and so it was fun to be able to attend NFR in Texas! 
The state of the world…the state of Texas 😉 
The rodeo was held at the brand new Ballpark at Arlington, which was fun to see, and to see it transformed into a rodeo arena. We had great seats for the rodeo!
We attended Round 4 which was remembrance night, a special tribute to lives lost in the last year.  
 'Ol Glory on horseback is always a favorite site to see! 
One of my favorite events in Vegas during the NFR is the nightly Buckle Ceremony. A recognition of the night's round winners for each event where they recap their ride/run, introduce family, and are recognized for their accomplishments. You really get a glimpse inside to the lives of the rodeo athletes, both people and animals, and I was grateful we were able to attend the Buckle Ceremony. 
It's a big deal to win a round, and we wish Houston would do some type of event like this for Super Series winners or the like.  The venue was "sold out", but we hung around a little bit, didn't press too hard, and when they were on the second event were seated right down the aisle directly in front of the stage!! Such fun!
Recognizing Jacob Talley's 3.4 second Round 4 Steer Wrestling win…winning $26,231.
If you look close on the right edge of photo, we were on TV several times! 
Monday we went to Cowboy Christmas – shopping venues which were in several places around Fort Worth including the Convention Center, Stock Yards and Will Rogers Expo area. Cowboy Christmas was pretty good in Fort Worth, but it is EPIC in Vegas!!
We got to see one of my besties and co-workers from my year on working on the road.  
Our souvenir from our trip was this Silent Night Christmas decoration, which actually stays out all year and is a sweet reminder of a special weekend away!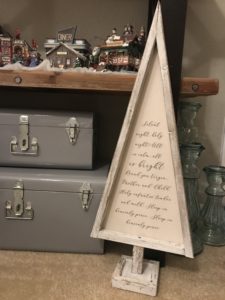 Cheers to fun times and memories amidst an interesting year of challenges.  Next up:  a trip to NFR in Las Vegas! 
Blessings,
Angie