House Projects: Dining Room
After our kitchen and dining room was repainted and along the way of the kitchen remodel, we worked on our dining room.  As a reminder, here is a before:
Later in the fall, we hung up a new gallery wall, including a mix of things we received as wedding gifts, an engagement photos canvas, a manifesto from Magnolia and of course a couple of Hobby Lobby adds. 🙂 Angie finds it easiest to lay wall decor groupings on the floor, rearrange and decide the spacing before hanging on the wall. Auggie is always a great helper in this task…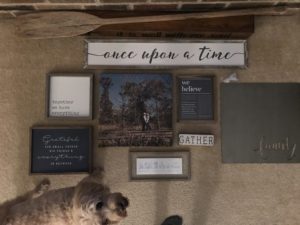 Once the layout was finalized, everything was hung on the walls.  
The oar is a Hurricane Ike recovery find by Angie, a reminder to always keep paddling, no matter what storms come.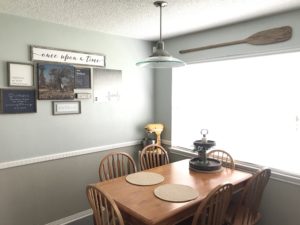 The opposite wall holds a collection of memories of our story together, in a frame gifted to Angie a few years ago by a sweet friend who's husband made it.  
The table we used was Angie's, and this space finally held a dinner with friends once the quarantines were lifted and gatherings started to resume. 
In the midst of our remodel, Cody inherited the dining table and chairs from his grandparents home. As we were putting the table into storage upon realizing the size without the extension leaves, Angie suggested we begin to use this as our everyday dining room table.
The night before the cabinet painters were set to begin, we had a last dinner at our current table, moved it out and listed it on Facebook marketplace, sold it in one day, and we knew this was the right plan. 
One thing that had been on our list since the repaint project was a new light fixture.  For reference, this was the current light fixture over the table which included a single tiny bulb that didn't provide much light.   
We started looking at lights several months prior, but never found anything we really loved. One day we looked again in Lowe's and found a light we both loved that really went with our new kitchen and we bought it immediately!  We don't have high ceilings in this space so there were a few limitations in what type of light we could use, and this one turned out to be a perfect fit.  Cody installed the new light and WOW do we have light now! In fact, we thought adding can lights in our kitchen was going to be necessary as part of the remodel, but after painting and adding the new dining light we decided we wouldn't need to add can lights.  #savingmoney
When the painters were done, we moved the new-to-us table to our dining room. 
Before the kitchen was entirely complete, we were able to host our first dinner at this table, which holds a lot of family memories for Cody. Now, we will continue to add to the memories as we eat here nightly and host our family and friends in our home. 
The dining room is now complete, and we love this updated space!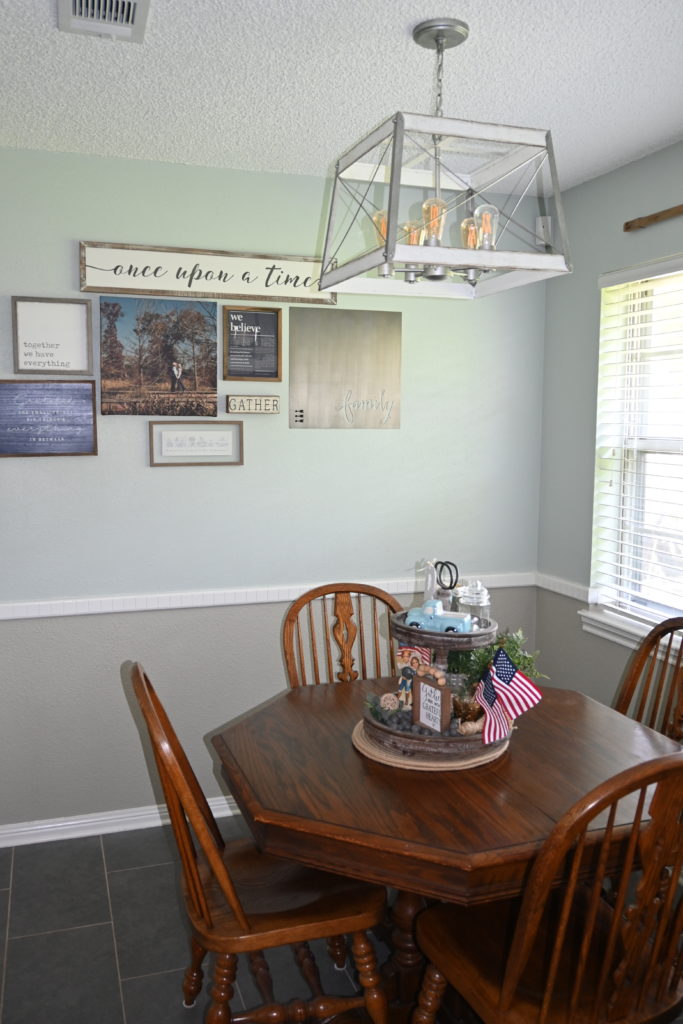 From our home to yours, we hope you take time to sit at the table, fancy meals aren't required, and spend time with those you love sharing life and collecting memories. 
Sources with links (not affiliate links) where available: