House Projects: Living Room Update
There have been a few updates to the living room since we were married. 
One of the first was adding a wreath including the garland from our wedding decor. This is a sweet reminder of the day we became Mr. and Mrs. 
The weekend before the big Texas freeze of 2021 we purchased a new recliner for Cody and wow, did that turn out to be perfect timing. We were able to pick it up on Sunday, got it moved in, set up and the old one to the curb for a new home. Little did we know on Monday morning we'd wake up to no electricity, for the next 56 hours, and that we'd be sleeping and living in our living room!  Auggie is also a big fan of this new addition!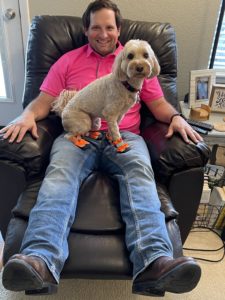 In addition to our kitchen remodel, we had some work done in our living room to update the built-in cabinets.  Built-ins are a favorite for Angie and the update really changed the look.  Here's where we started before…. 
The left side had glass doors and a bar in the middle.  Shortly after the wedding we took off the doors to open this side up.  
The right side was open shelving and you'll notice also includes the beloved scallop moulding that was a part of the kitchen. 
Here is a full shot from Christmas 2020 showing both built-ins and the fireplace. 
The updates included removing the bar from the doors, adding trim moulding to match the right side, adding new door fronts to match the new kitchen door fronts. Additionally, the scallop moulding was removed and new crown moulding added to match what was installed in the kitchen. 
The kitchen bar seating is also into the living room, which included extending the bar top depth by 4″, making it much more usable.  Here is another place where moulding was updated from scallops to crown. 
Painting the built-ins was part of the kitchen cabinet painting project, including moving everything out, tenting, fumes, dust and mess!  
These turned out really well and we love how it lightened up the living room as well. Again, a big change, took a minute to feel like it was meant to be, and now we are used to it and love it! 
Another favorite for Auggie is the fireplace in the winter, so expect to see him finding himself at home right here when cooler temps arrive. 
Another update we are really pleased with and love how it turned out! We spend a lot of time together at home and really enjoy our living room and look forward to sharing this space with family and friends.