We've done a few projects on the exterior of our house over the last 2.5 years…a new front door, new back door, new fence, new trim paint, redone flowerbeds and extended our patio. Here's a little recap from then until now… 
Where we started: 
First Spring of 2020 trimming up the flower beds – and our bear in the window for kids to find in the neighborhood on walks during the pandemic.
We found a front door we loved at Lowe's – and then found it on clearance and decided to go for it! Cody also replaced the light fixtures on the front porch and we love this new entry!
The flowerbeds were in full bloom for summer.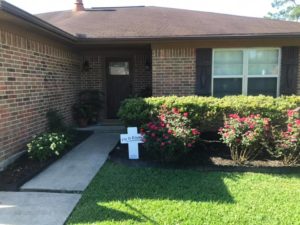 We had our roof replaced in the Fall of 2020, and with that installed a new back door.
Before: 
And, after. Auggie loves that view on the backyard and we love all of the added light from the new door!
Once the door was installed we started sampling paint colors to change up our trim paint. 
Speaking of paint color, my Mom came down for a cold wintery January 2021 weekend and helped me repaint all of our trim!  Before: 
…during…
…and after! Huge difference!! 
Another update was removing the shutters from the front windows. We thought we'd change them to a different style, after changing the paint color, but ended up leaving them off. 
We tackled our flower beds again, Spring 2021 removing shrubs, rearranging/moving rose bushes and planting some new boxwoods.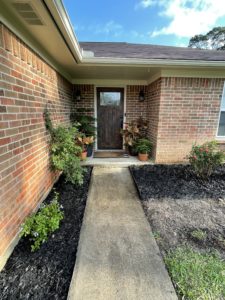 We changed up the planters Spring 2022 on the front porch.  
Summer 2022 we extended our back patio to have more space.  One day we'd like a pergola, but that's a future project. Hopefully we'll get a reprieve from mosquitos sometime, so we can use this space more. 
Before: a small patio with extension of pavers. 
After:  removed pavers, added concrete to the wall, to square up to the house and under kitchen window.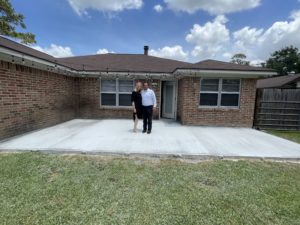 We also got a couple of new pieces of patio furniture, which included a building/assembly project we worked together on and finally had our patio back together, Auggie had his yard back and we are glad to have additional outdoor space!
These have been simple updates that we have been very happy with as we continue to make our house our home!  
In the midst of these exterior projects we've also done interior updates, click here for those posts. 
Blessings from our home to yours, 
Angie & Cody