Travel Reel: Palo Duro Canyon State Park
We recently took a trip to Amarillo and Palo Duro Canyon State Park. Did you know this is the 2nd largest canyon in the US? Only the Grand Canyon is bigger!  We made a weekend out of it with a few fun activities.  Here's the travel highlight reel:
Saturday – flight out to Amarillo, maybe one day there will be direct Southwest flights again… 
Checked into our cabin at Dove's Rest Cabins and took a walk right out our door for a little exploring. Dove's Rest is situated on the outer edge of the Canyon, and  a 1-mile drive to the Park entrance.  When we got out of our car, we both noticed the silence all around us, no traffic sounds, no neighborhood sounds, it was so peaceful!
We changed and headed back into Amarillo for the Anne Wilson, CAIN and Casting Crowns concert with a quick grab of Whataburger on the way.  Dove's Rest is about 30 minutes from downtown Amarillo and we were glad we checked in during daylight hours so we knew where we going when we came back.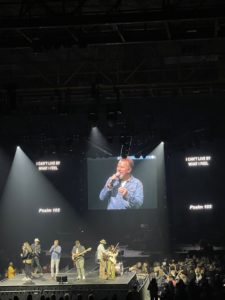 The forecast showed high percentage of rain all three days we were there, but we woke up Sunday to clearing skies and we were so grateful!
We loaded up and headed into the Park, with our pre-bought day passes, stopped at the visitor's center for a first view into the Canyon before making our way to the trailhead for our hike.  
We chose the Lighthouse hike, one of the most well known hikes of Palo Duro, also a "moderate" level hike as we are not currently seasoned, nor prepared (read: don't have hiking polls) "difficult" level hikers. The hike is approximately 2.7 miles in, a wide trail and mostly level, but note: no shade. I can't imagine doing this in the summer months. Pack a lot of water if that's when you go!  
Our first view of the Lighthouse 
At the end of the trail, there is a bit of a steeper/more challenging climb to get to the actual Lighthouse formation.  These pics are from me looking up, and Cody looking down as we were making the final climb to Lighthouse. 
Still not quite there, but getting closer…and it was getting warmer as we were making the last bit of the climb!
We made it! Such a beautiful view of the Canyon.  The majesty and grandeur of God's creation is really amazing! 
Here's another view from the other side of the rocks at the top.
We followed tracks for a long time on the trail, but never saw any wildlife, though we certainly thought we would. This was about the extent of it…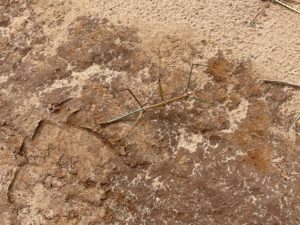 Cactus was everywhere, too!
The majesty of the colors of the Canyon was breathtaking – we stopped several times on the trails to look at the colors and rock formations. God is such an intentional creator and designer. I think we can sometimes forget that in our day to day life, but are quickly reminded in the beauty of creation and nature. 
All in all, took us about 3 hours to hike, take in the views, and return to the trailhead.
And, was actually over 6 miles total!
If you know us, you know we love burgers! And, a burger afterwards at the Trading Post restaurant and store within the Canyon was perfect stop. Thank you to the employee at the Visitor Center for telling us about this place!  
We got back to Dove's Rest, and rested, with naps and Sunday football. We went back to the Canyon for sunset before going back to Amarillo and meeting a dear friend (we missed her husband) for dinner. The sunset over the Canyon was so pretty!
…because outtakes are fun… 
If you're ever in the Amarillo area, we'd recommend Cask and Cork!  Our meal was so good and their rooftop is nice – thankfully there were heaters because 50s was a little chilly!
By Sunday evening I was wishing we were staying until Tuesday. Look at the moon over the Canyon. 
Monday we headed out to Palo Duro Creek Golf Course for a round of golf. We traveled with our clubs, these bags were economical and easy to travel with! Thank you Southwest for two free bags! 
We came back to Dove's Rest, had lunch on our patio, packed up, and bid farewell to a really sweet time away together. 
No matter what, it is worth investing in your marriage; doesn't have to be extravagant, but should reflect the things that bring you joy, perhaps trying something new together, and most of all being intentional in your time together.  
Palo Duro, you were good to us. We hope to return someday!
Blessings, 
The Robertsons
Bold/blue text are links to places and products.
All of these are direct links, nothing commissionable, & no collaboration with any of these places.