Home for the Holidays: Halloween 2022
This year I decided I wanted to add some Halloween specific decorations to the fall/pumpkins I've had traditionally.  While I'm not a fan of skeletons, or skulls, or witches, I do love jack-o-lanterns and friendly ghosts, which are harder than you think to find!  After looking around in stores and online, I found Target's Hyde and Eeek line this year had some really cute (& affordable) decor for Halloween.  I ended up with a couple of pieces that look like a Halloween village.
Here's a quick look around at our Home for the Holidays: Halloween 2022 
Auggie says "welcome!"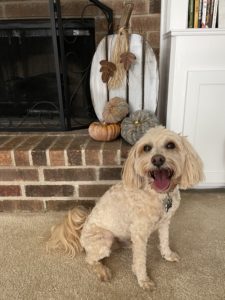 Our living room built-ins have the Hyde Eek decor pieces I bought:  Tree, Haunted House, and Ice Scream Shop, if you're searching Target online look for "Hyde Eek Mantel", the black houses were also from Target, which I never saw online. 
I love books, so have always had bookshelves with actual books and the spines showing, even though I know the trend currently is for the spines/colors/book jackets to be removed and books shown with only pages. I decided to flip my books for the holidays, so the decor shows off a little more, but they all still have their spines and book jackets in tact. 😉  
The opposite side of the built-ins has a few jack-o-lanterns mixed with pumpkins I don't really use for Thanksgiving/November. These pumpkins are from Target, Hobby Lobby, Boutiques, Marshall's/TJ Maxx, or the like. 
In the kitchen I have a few decorations for Halloween. 
I love this tiered tray throughout the year, it's currently a celebration of football, Aggies, fall, and Halloween!  The ghost appetizer plate is from Walmart.
Cute mummy mug from Target
A jack-o-lantern plate from Walmart
Keeping with the football/Halloween combo… 
And, I couldn't resist this jack-o-lantern bathmat for $10! Also, this "Hey Boo" mat is cute!
This jack-o-lantern pillow came home with me last year from Marshall's – it pretty much jumped in my cart on it's own! 🙂 
And, Auggie has his Trick or Treat bag ready to go!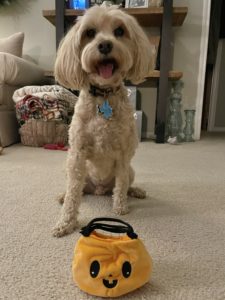 Early in September I put out a few fall decorations, starting with Football theme for the tiered tray.
Neutral pumpkins, which will stay out through November. 
And, a couple of scarecrows to start the season. 
Hope you enjoyed a look around our Home for the Holidays, Halloween edition.   
Home For the Holidays: Fall 2020
Home for the Holidays: Fall 2021
Blessings, 
Angie 
PS – as always, blue/bold text is links to other posts and products.
None are commissionable links.  I'll always share if that changes.