World Series Champions + Friendsgiving
Back in the summer our small group put a date on the calendar for Friendsgiving before holiday calendars got too full to celebrate the season together. At the time, November seemed like a long time away! Blink, and here were are to November 5th and it was Friendsgiving day!  Everyone signed up to bring a dish, and was definitely one of my Top 5 Thanksgiving Meals!  In fact, I only had a small lunch because I knew what everyone was bringing and I wanted to be hungry and ready to feast!  🙂 
Saturday also happened to be Game 6 of the World Series between the Astros and the Phillies, which the Astros were leading series 3-2 and they were back at home to play game 6. Win, win of a night!! 
Our host family set up beautiful tables, the turkey was carved, countertops were full, kids were playing and we had a wonderful meal gathered at the tables with lots of visiting after.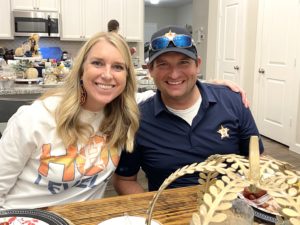 I made a new to me recipe, Sweet Potato Casserole and it was a big hit!  (If I made it again, I think I would half the streusel topping, and perhaps even less on the heavy cream and butter.) This is pre-baked and pre 2nd topping of marshmallows.  Yum! 
Game 6 was humming along with 0-0 score, then a Phillies got a solo home run, then in the 6th inning Yordan Alvarez hit a 3 run home run to put the Astros up 3-1, and we were locked in for the rest of the game!! 
A few families stayed to the end of the game, my Mom was texting in the 9th, "3 up 3 down".  She had been texting with me Thursday night at the end of the game as well and their TV was ahead by a pitch or a little more, so I knew the out was coming ahead of the out, but didn't mind the spoilers. I also didn't mind them in top of the 9th Saturday night…"1!"…then we saw the out, "2!!!", we saw the out, and our whole crew was on their feet to watch the last out and text dinged "Done!!" then we saw the epic catch by Kyle Tucker to end the game and WIN THE WORLD SERIES!! Fireworks started going off, cheers, high fives and celebrating!  Such a fun time to see the Astros win their 2nd World Series!  
Our first date was to the Astros, and we went to the first postseason game this season, where Yordan had a 3 run walk-off home run to win the game! What a season, what fun memories with our small group friends!  
Sunday after church we went downtown to the ballpark for part of the festivities since we wouldn't be able to make the parade on Monday. It was fun to be in the atmosphere of celebration!  We had a player sighting, waited with the crowds, made our rounds through the team store (spoiler: their prices are higher than Academy and MLB online), took a pic with the 2017 trophy, and then headed back home.  
Such a fun season of Baseball!  Cheers to the World Series Champions: The Houston Astros!
Blessings, 
The Robertsons