Auggie has quickly adjusted to the work from home life. After a couple of weeks staying in the office with me, he now manages his own time – sleeping on the couch, patrolling the backyard and hanging out on his sunshine mat.  He's a happy dood (rescue Golden Doodle)! 
Some days are hard to get out of bed to start the day though… 
Lately he's been snuggling up in blankets, which we've dubbed "Auggie in a Blankie".  I think he likes the extra warmth on these cold days we've been having!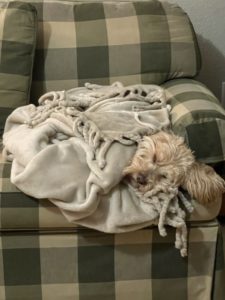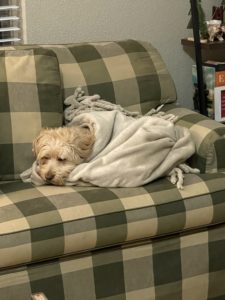 Feels a little similar to this meme…which is an actual representation of me watching movies: 
And, if you're not in "your spot" he's going to take it…the recliner or the couch…and your blankie. 
A slow morning with a blankie + pillow, is also a win. 
He's not picky, will take a blankie at MeMe and Papa's house too…on the couch or in the office by the heater…
Sharing a blankie with Dad is a favorite too.  
Sometimes he has to rearrange the blankies to get them fixed just how he likes it
Little cold in the office, he's happy to share the blankie, too 
He's a happy little dood, and his blankie snuggles have been a favorite this winter!
Stay warm and cozy! 
Blessings, 
Angie (& Auggie)