As of March 16th I've been consistently using Plexus for 6 months!!
I knew Plexus was working for me, but at 6 months I was really convinced….
Rodeo.
When the 2017 Rodeo Houston came to an end, I had been at the Show 16 of 20 days, for volunteer shifts, performances, meeting friends, committee events and anything else in between. I had also been to 3 days of BBQ Cookoff before the Show officially started.  In those weeks of course the weather fluctuated from way cold to hot, rainy days, clear skies. I was inside, outside, in dusty arenas, walking in pastures, sitting in meeting rooms and around hundreds of thousands of people. I was constantly shaking hands with people.  I NEVER GOT SICK!! Every single day I was there, someone I was around was on a Z-pak, getting a steroid shot (the legal kind), taking allergy meds, carrying kleenex, leaving early because they didn't feel good. And, you know what?  That has been me for the last 10+ years.  Literally exhausted when it ended. And sick.

Not this year. The lights came on for the last time, I sat outside and visited with friends until midnight, got up and went to work the next day and kept going with my MBA courses and other commitments. Never missed a day.
Still one of my favorite things about Plexus is the auto-ship, I don't have to think about going to the store on the right day to make sure I have the vitamins and supplements I need to keep me going. They are in my mailbox waiting for me. 
Next reason I knew Plexus was working….my Mom.  If you've read here long, you know that I exercise and try to eat reasonably well most of the time due to my family health history, of heart disease and arthritis.  (Click here). My Mom started using Plexus about 45 days after I did.  She was diagnosed with Rheumatoid Arthritis when I was growing up and has taken shots and meds for years and years, and thankfully has been in remission with minimal symptoms for years now, on limited prescription dosages. But, her Sed Rate (erythrocyte sedimentation rate ( ESR )) which measures inflammation in body never really dropped.  She went to her Rheumatologist for her most recent appointment and got amazing results.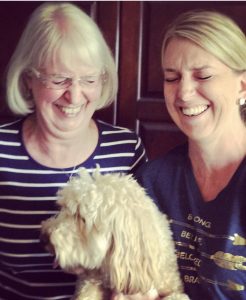 She's seen that same Dr for all these years, and has blood work history since the beginning. Her most recent results:  12.  From consistently being in the mid-30's – low 40's.  A "normal" Sed Rate is 0-20.  So, this was a major improvement. Also, her glucose levels were right in middle at 85 from a low of 59, "normal" is 70-99. My Mom discussed Plexus with her Dr when she started, and again at this appointment. Dr. S's parting words?  "keep doing what you're doing!"
In the summer of 2016 I scheduled up all of my "annual" appointments, and I had a few things to discuss with my Doctor.  After years of a consistent cycle, without having to regulate with birth control, my body was out of whack. WAY out of whack. At my appointment I was also scheduled for a mammogram as I was turning 40 in a few weeks. That appointment  turned into a follow up and another set of tests for "a spot deep in your breast" that went all the way to ultrasound and had me in tears on a table while I felt like my life hung in the balance. Add onto that my body cycle totally changing and I had no idea what my future might be. I know all of these things are hormone related. And, I know Dr's are regularly in the habit of prescribing birth control to regulate it all.  (I'm also convinced my peers who are experiencing infertility at rates that are ridiculously high are connected to long term birth control use that no one has studied, nor really knows the effects of. But, that's another topic.)
Thankfully, my ultrasound came back ok, and not of concern. And, my Dr didn't seem to worried about my cycle, but "keep a watch, and we can discuss again".  I wasn't satisfied with that, and no one knows your own body except for you, and I knew something wasn't right. I also know turning 40 puts me in a different bracket of what I should be expecting/experiencing. Around this time was when my bestie started talking to me about Plexus; for helping with my headaches and allergies by improving my gut health. I never really thought much about gut health potentially being related to hormones, but I started doing a little research.  And, I decided to give it a whirl in September, a month after I  turned 40.  By 4 months on Plexus, my cycle was back to normal and predictable. This was the ONLY thing I changed. And, at 6 months, it's still working.  So, instead of taking birth control or some other measures of prescriptions, I take simple supplements, that are all natural, plant based.
And, I'm not on a trial and error of various drugs trying to figure out what works for me.  Fixing my gut health works. It's also fixed my headaches and allergies, so I'm not taking ibuprofen on the regular or Zyrtec + Sudafed or Mucinex.
So, here's what I know at 6 months:
Gut health changes everything. And, consistency matters.