What's Up Wednesday: October 2022
I haven't linked up for a What's Up Wednesday in a few years, and this is another one I always enjoy. Here's a little look back at October and what we've been up to! 
EATING THIS WEEK 
We tried a new restaurant this week that opened near us, Simple Simon Pizza.  I've never had a calzone before, and that's their "signature item", so we gave it a try.  And, we really liked it!  Should have taken a picture, will try to do that next time! 
REMINISCING ABOUT 
Our trip to Palo Duro Canyon tops the list for me in October! A couple of other favorites I mentioned last week on Friday Favorites.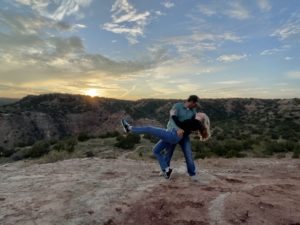 LOVING 
It is finally beginning to feel like fall here in Texas which means less humidity, cooler days, bright blue skies, working outside and we've even received a little bit of rain! Thank you Jesus! 
BEEN UP TO
We joined a Golf Club and are excited to be able to play more often, practice more (me) and enjoy a hobby together. I started with lessons in June and am finally able to feel a few pieces of the game coming together!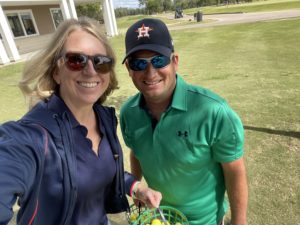 DREADING 
Some things are better left off the WWW, so I'll just say I'm praying for a few things that are hard in life right now. Spending time in the Bible and studies helps me with processing and a Counselor does, too!
WORKING ON 
Me.  Learning my new job. Plans for future house projects. 
EXCITED ABOUT 
Cooler weather.  Holidays.  Mom's cooking. Friend gatherings. Time off. Bidding farewell to 2022. A New Year. All of those things sound good to me! 
WATCHING & READING 
ASTROS GOING TO THE WORLD SERIES!!! 
I recently finished "The Maid" and am currently reading "The Younger Wife".  I really want a GOOD book to read…most of the historical fiction I have on my library holds are several weeks out, so I'm waiting for those. It's almost time for a couple of Christmas themed reads, which I always love.  
LISTENING TO
I recently listened to Steady Light EP by Lo Worship, which was really good!  I've also listened to a few podcasts on my neighborhood walks.
WEARING 
If you missed my Pre-Fall wearing post, click here.  Additionally, I've been trying to figure out what "wearing" looks like for me daily in the transition from going into an office to working from home. Here's a couple of recent things I've worn: 
Saturday with besties
Old Target button up, Old Navy jeans and Shu Shop sneakers 
Happy Hour + Work Day 
Houston Astros sweatshirt, TOMS booties, Sweater, Old Navy jeans
Evening of Golf
Pullover, TJ Maxx skort, Nikes
DOING THIS WEEKEND 
Going to see Ticket to Paradise movie, watching ASTROS IN THE WORLD SERIES and College Football, church, maybe golf, and Trunk or Treat with Small Group.  Last year our theme was football and we dressed up as officials.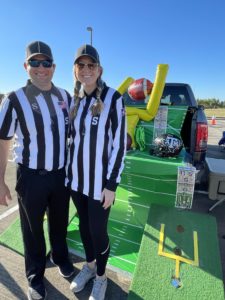 LOOKING FORWARD TO IN NOVEMBER
Thanksgiving, ASTROS IN WORLD SERIES, cooler temps, pumpkin pie and lots of time at tables. 
I always enjoy looking back and reflecting, and these posts are a great opportunity to do that for me.  Have a great day and I pray you can also look back on some good memories of October, see things you're working on, recognize where there's challenges and hope for the things to come. 
Blessings, 
Angie 
Linking up today with Mix & Match Mama & Sheaffer Told Me To blogs.
PS: As always, blue/bold text is links to other posts, sites and products.
None are commissionable links.  I'll always share if that changes.