What I Wore, Summer of '17
If you've been reading here this summer, you've seen a few posts of what I've worn on some travels to Seaside and Nashville, but thought I would round up a few other favorites from this summer.
I eyed this little cactus jacket for a while, then it was sold out and then back again, so I finally ordered it. You might have seen this post on Instagram, jacket is from The Sunset Pink Boutique, a new online boutique I found that has cute things and FREE shipping! Always a plus for ordering online!  I recently saw a blazer very similar to this in a floral print via the Instagram, but didn't save it and now can't remember who posted it…but was really cute!
This off the shoulder dress is from Old Navy and was perfect for a country chic wedding. I don't have too many off the shoulder things because I don't like fidgeting with clothes and pulling at them. This dress stays put and I've also worn it with wedges. I'll get more wear out of it next year during Rodeo Houston too!
Fourth of July weekend I met a bestie for breakfast at Snooze (best ever if there's one of those in your town) and then a little shopping. I picked these shorts up at Academy for under $10 and they will certainly repeat again next year for both Memorial Day and July 4th. I wore them a few other times this summer too, not just at July 4th.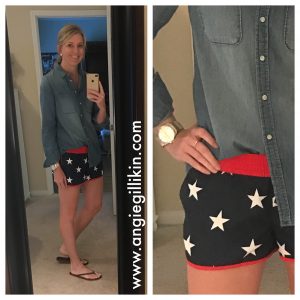 This day…I worked half a day and was out for the next two weeks, so this was minimal at best. This is three of my favorite things…gingham button up, white jeans and leopard heels.  Quickly becoming a favorite are these gold leather earrings. I've worn them a ton and have my eye out for some other colors.  Gingham shirt is a few years old from the Target men's section, but I've still seen them in stores this summer.
We've had a few rainy summer days (and I'm currently writing this while home during Hurricane Harvey) so I've worn my rainboots a couple of times.  This was for church on a rainy Sunday, and while I almost left just in denim dress I decided last minute to put on this floral duster with my dress.  I got it from Buckin Wild Designs and Boutique.  Dress is from a few years ago at Target and rain booties are still available now from Target.
I found this dress at a cute boutique in Nashville, called Dress Up.  It is not very often I can walk into a store and find a maxi-dress that is long enough for me, but this one was!  Also, it was tax-free weekend when we were there and dresses were on sale, so I got this for around $30 and wore it out that night!  This is another one I will wear around Rodeo and possibly at the NFR.
A few Saturdays ago I met a friend for breakfast and we stopped into Lily Rain after to browse around. I love that store, it has the cutest gifts, books, notepads and is a full boutique of clothes and jewelry. Their clothes are a wide variety of price points and we hit a sale that day! I got this dress for an extra 50% off, which was right around $16!  I love a good bargain! Yellow isn't typically a go-to color for me, but it is great for summer when I have a tan! 🙂 I've already worn this dress twice, once for church (below) and for a friend's wedding shower with wedges instead of heels.  The ruffle sleeves can be worn as cold shoulder style or just laying flat and only having spaghetti strap, so while it is trendy right now, it will last past the cold shoulder trend.
This is another top I got in Nashville. I guess sometimes you go all the way out of town to find what's apparently in your own backyard.  Have y'all heard of the Impeccable Pig?  Such a cute store and there's one right here in Houston that I will have to check out soon.  This top is halter style and though hard to see, has as ruffle sleeve. I loved that it was a longer length, especially since so many tops recently are more cropped length.
Last, I'm not sure what I think about the Target Cartwheel app going away, but I did take advantage of a recent sale with 20% off all sleepwear and picked up these pj's, regular price $12.99 and sale price $10.39 for the set!  Yes! And they are super comfy!
While September is just a week away, I'm sure there will still be plenty of hot days here, so likely a few more summer looks will be coming. Thank you for reading, and of course I love to connect on social media:
Subscribe to the Blog:
Click "Home" in the menu and enter your email.