2017 Every day. (10.08.17)
#write31days | Saturday Stories
I love taking pictures, the every day, the mundane, the big, the fun, the celebrating, even the hard. Images I want to remember.  So, this year, I'm documenting my everyday. A photo a day for my FB/IG and then writing the stories of each on my blog weekly.
10.08.17
Last weekend I was out of town and picked this little guy up on Saturday. Meme took him in for his groomer appointment and while he was watching for a treat Sunday, and not smiling he was pretty proud of himself and his new haircut. I'm not sure he's ever been as excited as he was to see me Saturday night when I got to the 4G!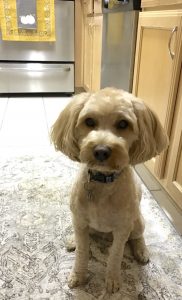 10.09.17
Monday night was final exam prep, finishing up class work for the semester and Mom sent me home with pumpkin pie, so a little fall treat!  Bonus of this week, a little tiny cool front (read: lesser humidity) rolled through town and it was sure nice!
Monday morning also started like this, I think Auggie got used to sleeping in those few days and wasn't quite ready to see the 6am hour on Monday morning. Nor was I!
In case you missed my Monday Musings this week and are feeling a little overwhelmed, I hope this post will encourage you to say "no" and find some balance!
10.10.17
Tuesday I took this pic on our walk, it was still great weather out, and we went for  three miles. But, scroll to see why I took this pic…
…because I found this one during Harvey. This was the same spot and shows the mass of water under a place we regularly walk to and come up this staircase from the trail.  I have no idea how high this pedestrian bridge is from the Bayou but has to be at least 25′ or more.
10.11.17
Wednesday night wrapped up another semester and 2 more classes are done!! Hallelujah!  And, as of last week, graduation is May 2018!  This was my Saturday morning breakfast club this semester as we worked on our group project, homework and other course work together every week!
In case you missed it, I blogged what I've been wearing lately on Wednesday.  (Click here)
10.12.17
I've never been a good test taker.  I've always struggled in standardized tests and regular tests.  So, Wednesday night my final had me a bit nervous. It was a handwritten, with calculator final exam that was evaluating data, running regressions, averages, forecasts and such. I was relieved to see a 96 on Thursday as my grade!!
10.13.17
Friday night I had dinner with my school bestie from teaching.  Every morning during the school year she and I would chat, and most Friday afternoons we stood in the parking lot for a few minutes to chat before the weekend. I miss seeing this friend every day, but grateful we still keep in touch and make time to hang out!
And, this is really my favorite photo, because her sweet girl took it and I love pictures by littles!
I also blogged some Friday favorites yesterday, including a few new home updates, and Auggie decided this day to pose and smile for the camera.  🙂
10.14.17
Saturday morning I walked with my bestie and got to see these cute twinkies who are growing up so fast! 6 months old already and a long ways from those first NICU days!!  They woke up from their naps when we got back. I love itty bitty babies!!
Saturday night I went out with friends to a fundraiser event that was so fun. Fried catfish & hush puppies with a George Strait tribute band? That's my kind of party!!  I've never seen a George tribute band, but it was really fun and this guy has a voice like George and must study his mannerisms/stage presence, because from afar, you'd have thought it was him!
Find all of this month's posts here:  #write 31 days |October 2017
Subscribe to the Blog:
Click "Home" in the menu and enter your email.