Home for the Holidays: Thanksgiving 2022
With the passing of Halloween, it was time to switch up the decor a bit for Thanksgiving.  I do love Christmas decorations, but I want to enjoy November before the tree is up, usually around Thanksgiving weekend because we have a few extra days to decorate.  We've already kicked off the season with Friendsgiving, and have many things to be grateful for this year.  Welcome in! 
The little helper was on duty, with his turkey in tow. 
As with any year, I changed up a few things, and only added a couple of new things this year. 
The pumpkin garlands are new this year, a Walmart find for less than $3 each!  I really like the mix of wood and metal, because it matches a lot of my pumpkins. 
A little closer view of the bookshelves…I added the gold turkey this year, I believe from Target $3 spot and the orange and green pumpkins are repurposed display this year and I really like how it turned out! 
The real pumpkins are still going strong on the hearth with a scarecrow added for the season! 
A few pumpkins were added to the other shelves we have 
The gold acorn here is another new find from Hobby Lobby, where the cashier told me she was surprised they still had one of those, they had been quickly sold. I had looked at Hobby Lobby decor a couple of times, and never seen the acorn, and happened to see it on another trip through so I picked it up. I love mixed metals in jewelry, and also in pumpkins. 
Finishing out the living room are side tables with a couple of Thanksgiving books from my collection and other turkey decor.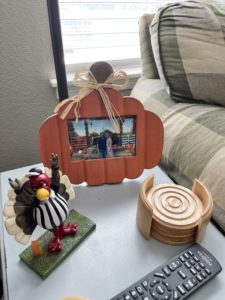 The kitchen got a few updates too. Of course the tiered tray…which got a cute "Game Picks" addition picked up at the holiday market.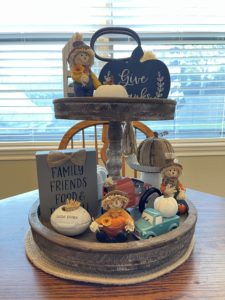 And, the little nook I decorate for seasons got a swap from the mummy to a pilgrim. 
A few other additions in the kitchen….
And, last but not least a pumpkin pillow has been on our bed since September.  
From our home to yours, Happy Thanksgiving! 
The Robertsons
PS: As always, blue/bold text is links to other posts, sites and products.
None are commissionable links.  I'll always share if that changes.
Linking up today for Friday Favorites with Momfessionals & Little Bit of Everything blogs.