Friday Favorites: 01.06.23
…back to life, back to reality…
Happy 1st Friday of 2023!  I pray that the holidays were meaningful time to each of you, with a chance to slow down and soak in the season, most importantly remembering Jesus' birth.  We've had a good holiday break, and I am thankful for a workplace that is closed between Christmas and New Years! Since transitioning back from public education to corporate work, the holidays and breaks the Firm has are very much appreciated! 
In case you missed recent posts…. 
Christmas Home Tour and my 2022 Word of the Year 
Kicking off this first Friday with a few recent favorites… 
The weather has been chilly, literally freezing at Christmas, and beautifully sunny.  That's meant cozy days and cold weather clothing.  I told my mom when we were out shopping one day this fall I wanted a Carhartt colored puffy vest.  Lo and behold, TJ Maxx had just what I was looking for and I've already worn it several times; with leggings, with a dress, with jeans.  It's perfectly what I wanted!  Cody gave me this super soft, cozy pullover for Christmas and I've worn it a lot of days too, perfect for "Texas winter".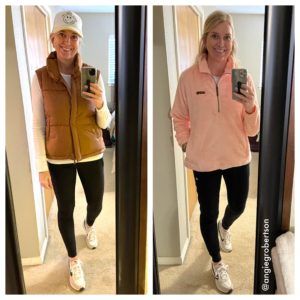 We had an early Friday morning into Houston over the break, and stopped in for my favorite breakfast.  I've collected a lot of hours over 20+ years in Houston at the table over these coffee cups. They are some of my very dearest memories.  
Speaking of coffee, I've long admired (on an online site) this mug from Rifle Paper, but when I saw it in person, I had to pick it up. It's so pretty, has book titles that I have mostly read, and is one of the easiest cups to hold. It's funny how a mug can be so different, but somehow they are and some are easy to hold and some are not! 
All of the Christmas Decor was put away last week, which I miss and equally love a fresh, clean house! Decorating days wear Auggie out! 
A puzzle table was my Christmas wish this year and I have loved the table I got!  It's been nice to sit in the evenings and work on my puzzles and have a place to keep all of the pieces while I'm working on it.  I think I've done 5 puzzles this season, and ending up with a challenging Thomas Kincaid manger!  
I've been collecting James Avery charms for many years and had two additions this year.  "Let's Rodeo" from Cody (Rodeo Houston is the beginning of our story) for my regular bracelet and "Good Shepherd" from my mom and dad for my Christmas bracelet.  I love the memories collected through charms! 
Is it a new year if you don't start out with a House Project?!  Ha! I'm excited my mom is coming in today and we're tacking another painting project together.  Two years ago she came and helped me repaint all of our outside trim, which was a big change for our house, so I'm excited about our Office refresh. We got started with a project over the break that Cody built for the office.  Since I'm working from home, I am really looking forward to this updated room, stay tuned for all the details.
Whether the weekend finds you relaxing/staying cozy and warm or working on projects, I hope it's a good weekend ahead! 
Blessings, 
Angie 
Favorites Archives:  Click here
Linking up today for Friday Favorites with Momfessionals & Little Bit of Everything blogs.
PS: As always, blue/bold text is links to other posts, sites and products.
None are commissionable links.  I'll always share if that changes.