Holiday Memories: Christmas 2022
Christmas 2022 was our 5th Christmas to celebrate together and we had a nice holiday with a lot of time at home! 
We kicked off the season with our Holidate weekend, a fun weekend away together. 
We signed, addressed, stamped (hooray for a new address stamp!) and mailed out Christmas cards – snail mail will always be my favorite! Looks like the snail mail continues to dwindle through the years… 
We had a special breakfast at Cracker Barrel. 
We had a date night out to a favorite restaurant.
We don't drink alcohol too often, but the cocktails here are a favorite!  
We celebrated the season with our church small group – crock pot feast of chili + soups and a warm fire on a chilly Sunday. 
I went to Mary Poppins with my Mom + the littles – such a great performance! We loved it!
This Christmas was a cold one – a few days & nights before below freezing, thankfully with no precipitation, and we kept our electricity the whole time! 
We had several fires and worked a few puzzles, watched movies and Christmas episodes of The Office, and I read a Christmas book this month.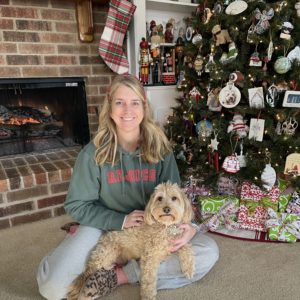 We wrapped presents – pretty paper, pretty ribbon and don't ever trust the box you receive…
We started Christmas Eve and celebrated the season with friends (where we forgot to take a pic) with Christmas Eve brunch. 
Spent time on Christmas Eve at home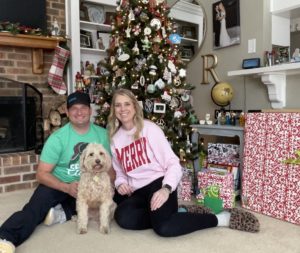 We were able to attend Christmas Eve Service at our own church, which was really special to us.  Including congregational Twelve Days of Christmas fun, communion and candlelight ending.  
We opened our presents at home…on Christmas Eve night – a first for us. We've always opened them on Christmas night after we returned from our travels.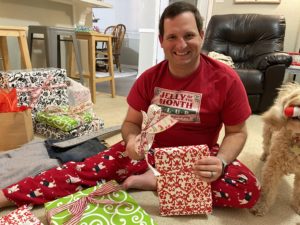 We started Christmas day early in our Christmas PJs (+ Astros gear) because it was still freezing!
We shared meals with our families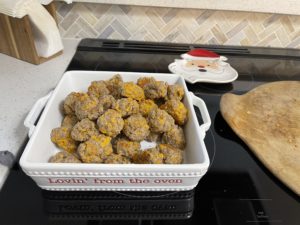 We gave fun gifts to littles. Saran Wrap, string of gift to pull out of a box, and scavenger hunts were fun to plan! 
No, we didn't give Auggie away, just a toy that looks like him! 
But did try out kids gifts! 
Auggie celebrated Christmas with his favorite things…presents! Annual new bed, a toy and a new bone.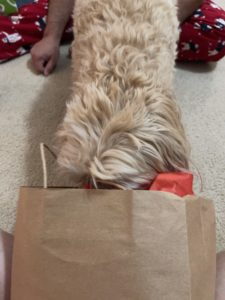 We took Auggie to see Christmas lights – which he really loved! 
We were gifted well and thankful. 
I found the gift I had been looking for months for my mom! On my last day of shopping! Hooray! I love gift giving, finding things that are special for people, and the joy in giving!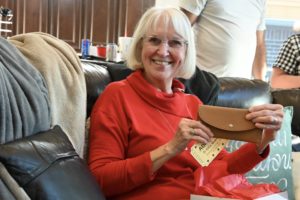 We took a little roadie to the 4G for a couple of days. More puzzles, naps, and movies + mom's cooking and desserts. 
To wrap up the year we went for early dinner at a favorite restaurant for New Year's Eve and then came home to watch (& nap – me) College Football games.  What a year of College Bowl Games! They have been fun to watch! 
We started the New Year at church on Sunday morning.  I love when a new year starts on Sunday – new week, new month, new year.  Last time was in 2017, when I chronicled every day.  In 2017 and this year, we'll start and end our year at church. 
We came home for traditional New Year's lunch of black eyed peas and cabbage. 
We packed up the decorations, enjoyed our last holiday day and were ready for a New Year.  This was a fun month of memories, but most importantly we remember the birth of our Savior, Jesus, and are thankful for the hope we have in him.  While pictures show the happy moments, there are lots of hard moments in between and everything isn't for the internet. If that is where you are, we pray that you know Jesus as your Savior and ultimate hope – no matter what the days of the year bring into your life, He gives us hope.  Hold fast to Him in 2023. 
Blessings from our home to yours and Happy New Year! 
Angie & Cody