Home for the Holidays: Christmas 2022
Welcome back for Christmas 2022 in our home! It is becoming tradition for us to decorate inside (Angie) and outside (Cody) together annually and finish up with decorating the Christmas tree one evening talking about ornaments and memories. 
Welcome in! Just finishing up the last touches of decorating and tying the tree skirt…
Our living room looks similar to last year, but included a few changes in the various shelves. 
The tree is our favorite. A collection of memories…family, places, friends, pets, wedding, childhoods, seasons, nativities, and more.  I love the ornaments! 
This year's presents were a bit whimsical with paper that's been in the box for a few years and needed to be used plus ribbon of Santa, Elves, Gingerbread Men, "Merry Christmas" and stripes.  I love wrapping presents and tying bows!
Auggie loves presents.  He's such a helper, too… 
Our mantel and fireplace are mostly the same, we are grateful for cooler weather with several days of fires this holiday season!
The bookshelves have a few different arrangements of things, including Cody's nativity, and we added our Christmas card from this year as well. I've left the book spines to the back since I put up the Halloween decorations this year. 
Our other shelves in the living room have a variety of Christmas decor, including nativities. We didn't put up the village this year, and I've liked the simplicity of this shelf with the nativity + manger & trees. Silent Night tree was our 2020 Holidate souvenir.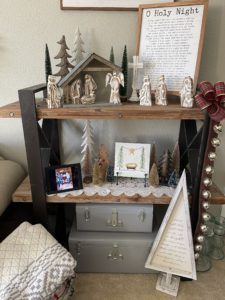 Our end tables include a favorite Christmas memory pic with Auggie, carolers and a play nativity. 
Auggie is not fooled…this is not the real Santa. Second year in a row for this same face. 
The tiered tray is always a favorite + is festive with houses and trees.
The counters have Santas
And a few Christmas decorative baking pieces.  Plus a whimsical scene of Christmas on the oven handle.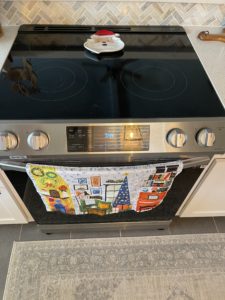 Our bedroom gets a little Christmas bedding update for the season. And, we added a Christmas tree in our bedroom this year which has been a favorite!!  This is a slim flocked tree simply decorated with a $5 box of ornaments from Walmart and I have ideas for what it will look like next year.  I love trees, and would have one in every room! 
Auggie makes himself at home in the mornings when he's not quite ready to get up….
Last, the front room is 3 for 3 (years) with the same decor. 
Outside, we have new lights this year…a change to all white lights and new trees in our yard that Cody built. 
Christmas cards are a favorite around here! We love receiving cards!
From our home to yours, we wish you a Christmas season filled with joy – remembering the birth of our Savior, Jesus.  
Matthew 5: 1-16
Blessings, 
Angie & Cody
To take a look back at Christmas through the years, click below: 
Home for the Holidays: Christmas 2021
Home for the Holidays: Christmas 2020
Christmas Home Tour 2017
Christmas Home Tour 2016