In case you missed it in January, I'm taking 2017 in 30 day increments (well, sometimes 30, or 31 or 28) and committing to something for 30 days.
August: 30 days of crossing things off the list!
After a month of being on the road and gone in July, it was time to start establishing some sort of routine in August.  Sidenote: even though I had an online class in July, that traveled with me, it was a little glimpse of life again without school and homework!  2nd year MBA starts up end of August, we went back to 5 day work weeks (vs. 40 in 4 aka 10-hour days for June and July) and I needed to get a few projects done and get ready for fall semester.
So, I intentionally planned out my week, and if I put something on my list for a day (ie: fold laundry, grocery store, blog) then it needed to get done that day.  Not procrastinate and push it to another day.  Taking a hint from Nike, just do it.  None of these things were earth shattering. And, some days plans came up and I pushed a few tasks. But I felt like my evenings were really productive and I didn't have "to-do's" hanging over my head.
I did things like….
Get all of the pictures off my phone and organize into my external hard drive, by year and month and content type for blog.
Sweep out the garage.  August in the garage is delightful.  Ugh. I was soaked.  And, I have a one car garage.
Return library books, and pay fine.  Oops.  I held over a book for a trip, $1.40 still cheaper than buying books!  #librarylover
Iron the basket full of clothes.  This is one that stays on my list and pushes and pushes.  But, I got it done.  I hang dry a majority of my clothes, so they don't shrink in dryer, so that requires ironing. #tallgirllife I've never been one to have an ironing board up and iron on the daily. But, I am the girl to have a laundry basket that gets almost filled to the brim with things that need to be ironed….
Taking care of my Plexus peeps!  Sending out samples, info, helping teammates, answering questions.
Even though this is an old pic, it's one of my favs of Auggie and  thought it was appropriate for this month. Of course he got daily walks, those are a given on the list of things to-do.
My real life planner is this one by Inkwell Press, purchased at Office Depot, and I love adding in a list page each week and just using the monthly view for meetings, events, rodeo, Polished, school, trips, etc..
All was going so well, the one thing I skipped/didn't always do was write on my blog.  #selfgrace #reallife
Then, Hurricane Harvey hit.
Thursday the 24th started with "stock up" warnings; groceries, water and gas became scarce. Friday, 25th, we only worked until 10:45 so people could get home and get supplies. The path at that point was unknown. And, then I watched TV for 5 straight days and Houston flooded.  I don't really watch TV much, but I was paralyzed to it, watching rain sit over the city, Bayou levels rising, road closures, flash flood warnings, tornado warnings, and my lists went out the window. I got out to volunteer on the 30th and spent August 31st at the 4G with my family.
So, that was my Commit for August.
30 24ish days of crossing things off the list.
Now for September.
(Real life: this post was written Sept 21st)
Stay tuned for the end of month reveal.
What would you commit to for 30 days?
I have several things I have thought of, but would love to hear some other ideas.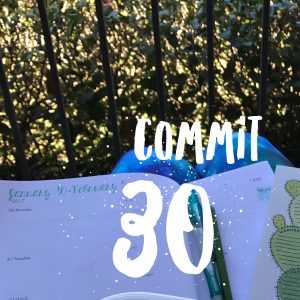 Spoiler Alert: October will be #write31days.
Yes, I'm already still thinking about a topic, think I have it figured out?!!?
#commit
It's good discipline in all aspects of life.
 January…30 days of No Shopping: click 
(here)
 to read!
April…30 days of Letter Writing: click (
here
) to read!
May…30 days of Jogging: click (
here
) to read!
June…30 days of Reading: click (
here
) to read!
July…30 days of no Dr. Pepper: click (
here
) to read!
Stay in touch…
Subscribe to the Blog:
Click "Home" in the menu and enter your email.
Blessings!