Home for the Holidays: Christmas 2021
Welcome back for Christmas 2021 in our home! This year looks a little different than we expected at the beginning of the year, but we are soaking in this time together for the Christmas season.  We've had a major change in our house since last Christmas with kitchen remodel, living room, and dining room updates! 
Welcome in to Christmas 2021! 
We worked inside (Angie) and outside (Cody) to decorate for Christmas and finished up with putting the ornaments on the tree the next day.  Our tree is still a collection of our story, and putting each ornament on reminds me of the people and places that have impacted our lives. 
Here's a look around our living room….so much different than last year!
Paint and trim was the major change, the decorations are mostly the same. 
Much like the jack-o-lantern pillow, I couldn't resist this Santa face pillow when I saw it!
Our side tables got a little addition with a fun Christmas memory picture and little elf decor. 
The little helper was sleeping on the job…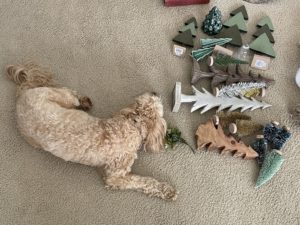 The front room is a repeat again. I love this cozy room and Christmas tree lights shining out in the evenings. 
I picked up a couple of little houses at Hobby Lobby this year for the tiered tray. 
And, here are a few other Christmas additions in the kitchen 
Christmas cards are my favorite and I love looking through them several times each year. This sleigh is a perfect place to display them. 
Not only was the inside festive, but the outside is too, with lights, a tree and our reindeer with a deer feeder. 
The wrapping is done and we are soaking up the season.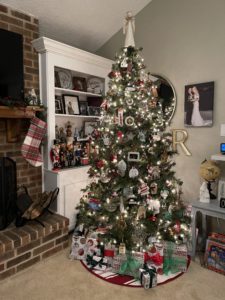 From our home to yours, Merry Christmas! 
As this year comes to a close, we are holding onto the hope we find in Jesus and pray the same for you. 
We wait in hope for the Lord; he is our help and our shield.
In him our hearts rejoice, for we trust in his holy name.
May your unfailing love be with us, Lord, even as we put our hope in you.
Psalm 33:20-22
Blessings, 
Angie & Cody
To take a look back at Christmas through the years, click below: 
Home for the Holidays: Christmas 2020
Christmas Home Tour 2017
Christmas Home Tour 2016